Although summer is the season that tends to be tied to outdoor parties, there's something about autumn that's beautiful, inviting, and comforting as well. While we may expect some rain from time to time, the days are still quite warm and the weather is often ideal for spending time outside. However, there are certain things you have to be prepared for when you're planning on any type of open-air event in autumn. If you're thinking about making the best of autumn by throwing a garden party and you want to make it special, here are some smart tips for you.
Stay Warm
Autumn days are usually pleasant enough for outdoor activities, but the temperature can change in a glimpse, especially as warm days turn into chilly nights. This is something you should anticipate and plan for, since you don't want your guests feeling uncomfortable and cold, which could make them leave your party sooner than you'd like them to. While arranging your garden, before any of your guests arrive, put blankets on the chairs, or put a huge pile of them in a huge basket, for your guests to help themselves in case the need for it arises. If you don't have that many blankets, invest in some fleece ones that aren't expensive and can be easily washed for the next time you want to use them. These are a better option than a patio heater, being that those aren't really environmentally friendly and they aren't as safe to use as blankets. If you have a good place for it, you can also consider a firepit, but only if there are no kids at your party and if you take preventative measures to keep everybody safe. Finally, if you don't have a gazebo in your garden and you're worried that it might rain, you can rent one and make sure nothing disrupts your party.
Choose Food and Drinks Wisely
There are several ways to go when it comes to what you'll serve your friends at your autumn garden party. Above all, you can opt for seasonal produce, such as the versatile pumpkin, which you can serve roasted, as the main ingredient in a savory pasta dish or as pie filling. Perhaps the weather will allow you to use your barbecue and grill some meat and veggies for your guests. If you don't think a barbecue is a good idea, stick to meals made in huge pots or slow cookers, which you can prepare beforehand and keep warm until your guests arrive. You can always go for poultry, as most people love it, but keep in mind that some of your friends might be vegan or vegetarian, so prepare something for them separately. As far as drinks are concerned, you can make cocktails, mulled cider, or anything else of the sort, but you can also get some top-quality Soave Classico, phenomenal Italian white wine that will pair perfectly with any chicken or turkey you make. For those with a sweet tooth, there's always hot chocolate, and if you're making coffee, it might be a good idea to make it Irish, to warm up your guests additionally.
Make the Lighting Special
There is a lot you can gain from outdoor lights, as they can set the mood and make your garden look as magical and as appealing as you want. Bear in mind that the days are shorter in autumn and the nights can get dark, particularly so if it's cloudy and you can't even see the moon. This is why you should find functional, yet creative solutions for lighting in your garden. For instance, you can put candles inside mason jars and place them all over the area. This will give the place a charming, soft glow, and the candles will stay lit for longer, as they'll be protected from the wind. Also, there are so many different kinds of fairy lights on the market, all just waiting for you to hang them between the branches of your trees, or along your garden fence. You can even use them to decorate the edges of your tables and create the perfect autumn-night atmosphere. Finish it off with some waterproof solar-powered path or lawn lights, so that your friends can see where they're stepping at any point.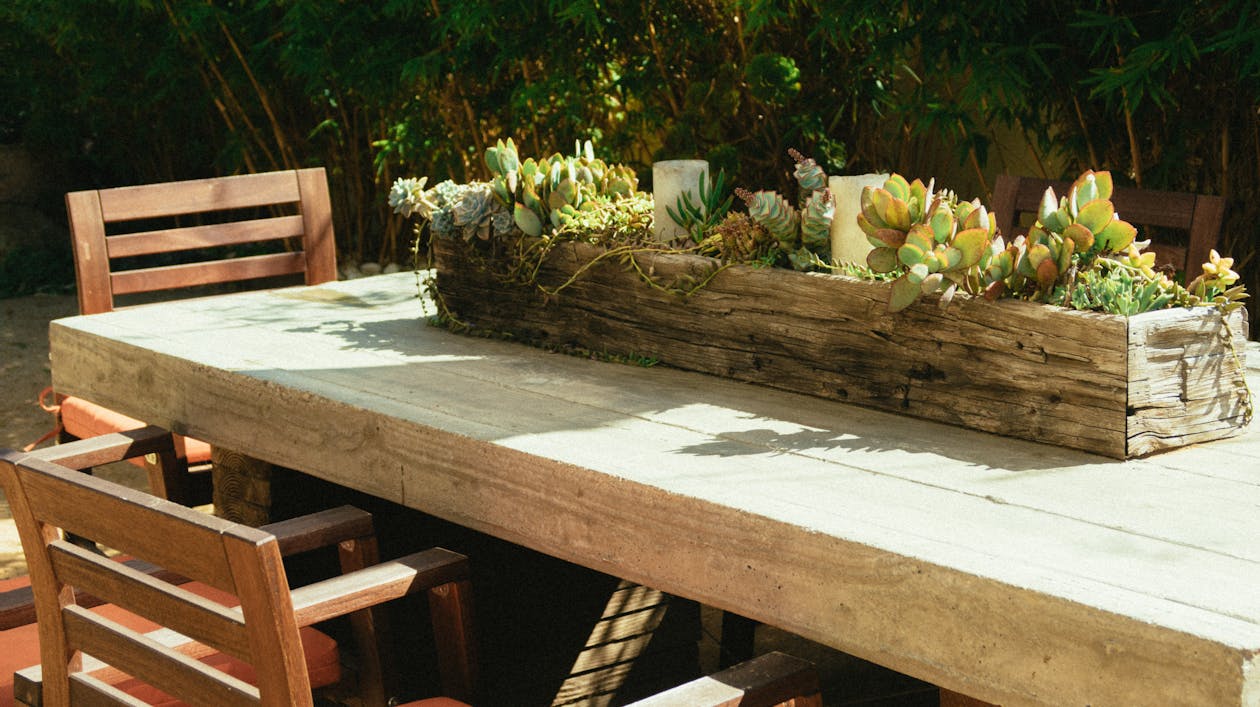 Tidy Your Garden
Food, drinks, and entertainment won't mean a thing if your garden is messy and uninviting. It's essential that, before you even begin with any other preparations, you clean up your garden, mow your lawn, rake the leaves and make sure nothing is out of place. This means that you should put your tools back into the shed or the garage, that you have practical and cozy outdoor furniture, and that you don't have any garbage lying around once people begin arriving. If there's a water feature in your garden, such as a pond or a fountain, don't forget to clean it and remove any leaves or debris that got inside it. If there's time and you consider it necessary, you can also pull out your pressure washer and make sure your patio area is spottles. If you don't have a pressure washer, see if you can borrow one from your friends or neighbors, or rent one for a day to get the job done.
There's no need to stop having people over or spending time in your own backyard, just because the summer's over. If you want to throw a party, you can still do it, and make it a lovely and memorable one, with these excellent tips as your guide.