Coming to Sicily was an incomparable experience, I've yet to find a city and province similar to this. The taste, sounds, feel and sights take you somewhere new. Everyone's experience might be different but here's mine.
Entry:
We took the ferry from the other part of southern Italy and landed there in no time. We passed by Tarromina (a mini Amalfi coast-like enclave) and Catania also popped on the way. If you're going to Sicily, a day or two to Catania is a must. A few miles into the journey, the landscape changes from the rest of Italy. An endlessly dry and quiet landscape with a scatter of trees that turns the whole scene into a real life sepia filter. Thousands of rolled up baled wheat cluttering the fields. You'll notice olive trees that are possibly over 500 years old and a scatter of lemon, tomato trees as well as vineyards. "An olive tree takes about a year to fruit but continues to fruit for over 500 years. This one here is possibly 400 years old from what my grandparents have told me as a child", an 80 year plus distant family member from a town the Donna Fugata.
We were heading towards Ragusa to meet the family. On our way, a number of derelict old Italian houses decorated the land scape with grand entrances. Think Maximus from Gladiator returning to his family (in his dreams) and that warm home he heads to with a huge pillared gate and a long non-gated path up a tiny hill towards the house. I wondered who stayed in these houses which some shepherds now use as a stop over for their cattle. "Not many people are crazy enough to buy one of these derelict buildings and spend 10 years in renovation to make it look like it does now", our beautiful food blogger and B&B host Elisa shares .
Stay
A lot of work went into renovating the skeleton of a building that this Swiss/Sicilian couple turned it into an Art Gallery of a house! A perfect boutique B&B fully equipped room (2 small design-y studios building behind the main house) nestled on farm land, between olive and lemon trees. I personally thought this is where I will come to write my book one day! Their living room carries a lot of Modern art from well renowned artists in Europe & New York. Her Kitchen is definetly one that I can pretty much live in my entire life. The picturesque view from the window made the windows seem like a framed work of art on it's own, looking over a field with Olive & lemon trees. We sit down for breakfast which consists of Ricotta Cheese, fresh Italian bread, toasted, fresh fruit preserves, local honey, delicious yogurt and cereal. Italians don't eat eggs for brekkie it seems. Coffee was splendid. It felt as though she'd just grinded them after self roasting somehow. Loaded with energy, we took off to explore. Two nice B&B I can recommend in Modica are  Le Lumie & Casa Talia  .
Explore
Ragusa has a Unesco world Heritage protected area in Modica which celebrates it's grand Baroque Cathedral, Ibla. You will also find several Baroque designed old churches dating back to the 1600s with intricate art and murals all over. Not an inch is left unpainted or unengraved. The city of Ragusa is built on mountains and the views are spectacular from wherever you stand. Modica and Scicly were built in Sicilian Baroque style, divided into the lower and higher parts. These two parts are connected through hundreds of steps with houses stacked on top of each other on this mountainous city. It's simply stunning at any time of day and people come from all over the world to experience this beauty and glory.In the plazas, older men hang out in groups- they talk and play board games. Women also congregate and watch life go by while chatting and breathing in fresh Sicilian air. Older people here are very healthy and live a prosperous long life. I bet you it's the food, olive oil to die for and lifestyle. Don't miss the beaches and the sea, a boat rental for a few hours is a must! More info here.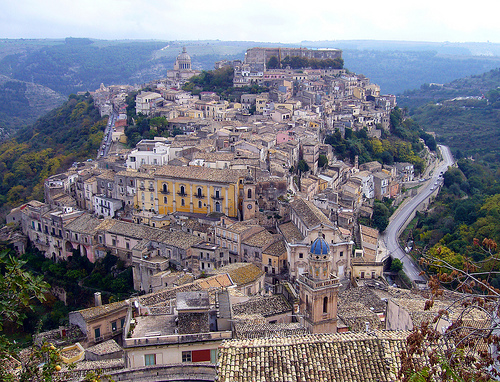 Food
Sicily is known for their food since it's been influenced by Arab, French and Spanish cusines. Their land is rich with lots of fresh veg such as tomatoes, aubergines and marrow (zucchini). Olive oil and olives obviously sit on the best food pedestal and it's always used in cooking. I was particularly fond of an aubergine dish called a parmeseana which is simply devine, here's a traditional recipe. Other dishes were very 'starter-y' but delicious and filling such as Sardines a beccafico, which was incredibly yummy, stuffed peppers and ofcourse their breads such as the Catanian Scacciata, their fresh seafood such as stuffed squid or their swordfish and don't forget to simply let go and endulge in as much risottos and pastas you can fit. Italians will easily fit 4 or 5 courses so don't be surprised if you must! You'll always find some fresh ricotta pin any kitchen, home or restaurant. It's something they eat the most, which is the best Ricotta you'll find. It's also served as dessert, warmed with honey as well as in a dreamy delicious dessert that comes as a pastry tube filled with Ricotta, called cannoli. Another snack I forgot to mention earlier is called panelle, which are fritters made with chickpea flour.
For our last night, Mrs. Elisa Rizza has made for us a 5 course dinner (kitchensurf style) to introduce us to simple Sicilian delicacies. It was prepared for a party of 12. Local Don Afucata wine was also served for the oenophiles on the dinner table. So rich in flavour and uniqueness, I fell in love with the aubergine and ricotta again. Here are photos from that spectacular night. Here's also Elisa's food blog for typical Sicilian recipes.
I'm now very hungry! Here's a fancy recipe I found on GQ for a dinner at home to impress your guests!
Notes
Don't miss the sea- hire a boat and spend time in the sun and enjoy the gorgeous, gorgeous blue colours of the sea. Sunsets- don't miss them either, the best ones are on top of mountains where towns are developed, they set so beautifully on whichever landscape you choose- those sepia farm lands, the sea or simply over the mountain looking at the rest of the landscape. Mafia still exists as they say but it's obviously not talked about, so don't go looking for Al Capone's extended family because its not a joking matter in Sicily 😉