Festivals are a great way to get together with family and friends, indulge in sweet cravings, and let go of those diet rules. Some wise person once said that a successful celebration is one that celebrates food without a single worry about calorie over kill.
Eid- Al Adha is known to muslims globally as the bigger feast that celebrates an end of a holy pilgrimage through food and sacrifice. For those non-vegans, we have compiled a few recipes that are super easy to prepare and make. The first recipe is Middle Eastern, second North African and last South Asian, proving that muslim celebrations have no boundaries for culture or language. Enjoy.
Lamb Meatballs with Tahini Sauce
3 garlic cloves, minced
1 ¼ teaspoons coarse kosher salt, plus a pinch
1 pound ground lamb
2 teaspoons cumin seeds
½ teaspoon hot sauce, more for serving
Black pepper, to taste
½ teaspoon chilly powder
1 scallion, minced
2 tablespoons finely chopped parsley
Olive oil, for greasing pan
¼ cup plain yogurt
¼ cup tahini
Fresh lemon juice, to taste
Instructions
Heat broiler with an oven rack placed 3 inches below heat source.
Using a mortar and pestle or the flat side of a knife, make a paste with garlic and a pinch of salt. Put half the garlic paste in a large bowl and add lamb, 1 teaspoon of the salt, cumin, hot sauce, pepper, chilly powder, scallion and 1 tablespoon parsley. Mix to combine.
Shape lamb mixture into 1 1/2-inch meatballs and place on an oiled rimmed baking sheet. Make sure meatballs are spaced at least 1 inch apart. Transfer baking sheet to oven and broil meatballs for 8 to 10 minutes, or until browned on top and slightly pink on the inside.
Meanwhile, combine yogurt, tahini, remaining garlic paste,1/4 teaspoon salt and the lemon juice to taste.
Transfer cooked meatballs to a serving platter or individual plates and serve with tahini sauce and extra hot sauce, if you like. Garnish with the remaining parsley.
Courtesy The New York Times
---
Moroccan Lamb Tagine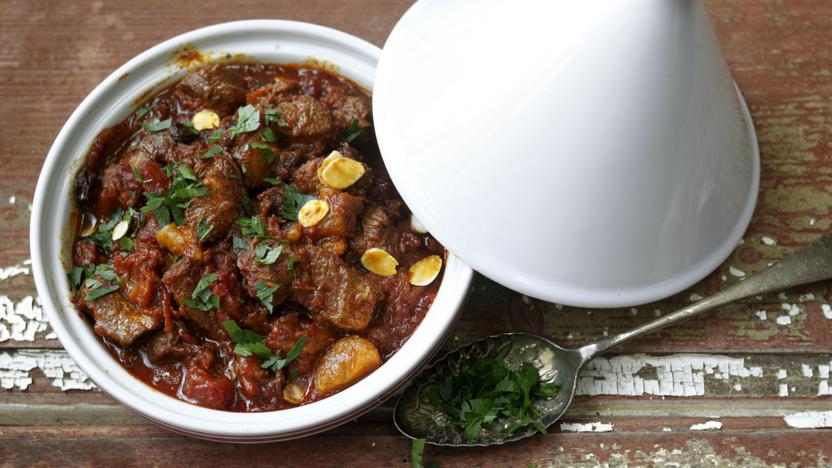 1 tsp cayenne pepper
2 tsp ground black pepper
1½ tbsp paprika
1½ tbsp ground ginger
1 tbsp turmeric
2 tsp ground cinnamon
1.1kg/2½lb cubed lamb shoulder (5cm/2in chunks)
2 large onions, grated
2 tbsp olive oil
2 tbsp argan oil
3 cloves garlic, crushed
570ml/1 pint tomato juice
2 x 400g tinned chopped tomatoes
115g/4oz dried apricots, cut in half
55g/2oz dates, cut in half
55g/2oz sultanas or raisins
85g/3oz flaked almonds
1 tsp saffron stamens, soaked in cold water
600ml/1 pint lamb stock
1 tbsp clear honey
2 tbsp coriander, roughly chopped
2 tbsp flat leaf parsley, roughly chopped
Here's what to do:
Place the cayenne, black pepper, paprika, ginger, turmeric and cinnamon into a small bowl and mix to combine. Place the lamb in a large bowl and toss together with half of the spice mix. Cover and leave overnight in the fridge.
Preheat the oven to 150C/300F/Gas2.
Heat 1 tbsp olive oil and 1 tbsp of argan (or vegetable) oil in a large casserole dish. Add the grated onion and the remaining spice mix and cook over a gentle heat for 10 minutes so that the onions are soft but not coloured. Add the crushed garlic for the final 3 minutes.
In a separate frying pan, heat the remaining oil and brown the cubes of lamb on all sides then add the browned meat to the casserole dish. De-glaze the frying pan with ¼ pint of tomato juice and add these juices to the pan.
Add the remaining tomato juice, chopped tomatoes, apricots, dates, raisins or sultanas, flaked almonds, saffron, lamb stock and honey to the casserole dish. Bring to the boil, cover with a fitted lid, place in the oven and cook for 2-2½ hours or until the meat is meltingly tender.
Place the lamb in a tagine or large serving dish and sprinkle over the chopped herbs. Serve.
Courtesy BBC
---
Rice Pudding or Sweet Kheer
4 cups milk
½ cup basmati rice
½ cup chopped almonds and/or pistachios, toasted
¼ cup sweetened condensed milk
2 teaspoons ground cardamom (optional)
Here's what to do:
Rinse the rice twice while heating the milk over medium-low heat in a heavy-bottomed pot. Drain and add the rice to the milk, stirring to combine with a wooden spoon.
As it cooks, the kheer will thicken. If you prefer a thinner pudding, feel free to add extra milk.
When you've reached the 20 minute mark, check if the rice has been cooked. Once it has been cooked through, remove the pot from the heat. Stir in the cardamom, then swirl in the sweetened condensed milk. Check for sweetness, feel free to add more.
Serve the kheer hot or cold. Sprinkle each bowlful with a handful of nuts and a teaspoon of rosewater.
Courtesy Mashup Americans
---