Hosting a Halloween party last min and need some ideas? We'll help you make some spooktacular treats for your guest worth instagramming. Try out these spot on, easy to make ideas for a Halloween evening worth remembering.
Freaky Frankenstein Cocktail
What you need
Apple Vodka
Melon liquor
Sparkling water
Black sugar
How to make
Wet the rim of the glass with vodka or water and dip it in black sugar.
Mix the other ingredients in a separate container and pour into the glass.
Serve with ice.
Witches Hair Pasta
What you need
6 large garlic cloves
1 tbsp salt
1 lb dried squid ink spaghetti
1/3 cup olive oil
1 tsp crushed red pepper flakes
How to make
Finely chop the garlic and set it aside.
Boil some water in a large pan, add salt, and cook the pasta as per the packet instructions.
Whilst the pasta is cooking, put some olive oil, and chopped garlic into a large pan.
Cook over a low heat for 4 minutes, stirring frequently.
Add red pepper flakes and cook for 30 seconds more.
Take a cup measure and remove 1/2 cup of the water the pasta is cooking in.
Add it carefully to the garlic oil.
Let this mixture simmer until you are ready to drain the pasta.
Reserve a further cup of the pasta cooking water, before you drain the pasta.
Add the cooked pasta to the garlic mixture and stir well to combine, over a high heat
Add more cooking water if needed then serve immediately.
Halloween Bat Treats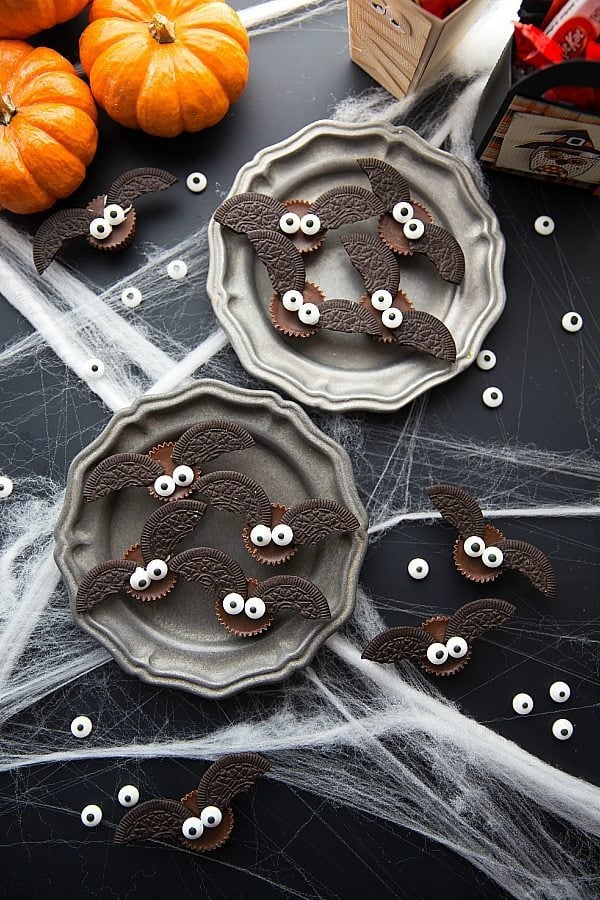 What you need
25 Miniature Reeses Cups
25 Thin Oreo Chocolate Sandwich Cookies
1/3 cup cream cheese frosting
50 edible eyes
How to make
Remove the wrappers from the Reeses cups.
Break the cookies in equal halves and scrape off the frosting and discard or just lick it away.
Fill up a bag with the frosting. Cut off the tip of the bag and pipe frosting onto the back corners of the broken cookie pieces.
Press one cookie piece on the left of the Reeses cup and another cookie piece on the right of the Reeses cup.
Pipe frosting on the back of the edible eyes and secure on top of the center of the Reeses cup.
---
Have a Happy Halloween!
---